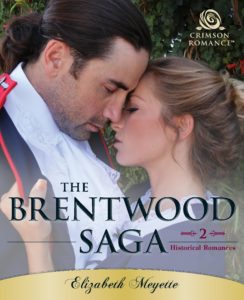 May I introduce you to The Brentwood Saga? You can now enjoy my first two historical romances, Love's Destiny and Love's Spirit, in a new bundle announced by my publisher, Crimson Romance, an imprint of Simon & Schuster. The Brentwood Saga will be released on. July 17. Now available for pre-order for only $1.99 at the following sites:
I must say, the man and woman on the cover look exactly like my hero and heroine, Jonathon Brentwood and Emily Wentworth.  
I have Kathleen Woodiwiss and my friend Marilyn to thank for my venture into writing historical romance. Years ago, Marilyn tried to convince me to read romance novels by Kathleen Woodiwiss. "No thank you. I don't read romance novels." I might have looked down my nose a bit.
After a semester of college classes, I was ready for an escape. Marilyn handed me a stack of books including Shanna and The Flame and the Flower by Ms. Woodiwiss. Reluctantly, I picked one up and began to read. And read. And read. I was hooked. I read every book in the stack she'd given me.
When it was time to return them, I didn't want Marilyn to "win," so I tried to be nonchalant.
"These were good, but I could write a romance novel," I said.
"Then do it." She had challenged written all over her face.
"I will!" I picked up the gauntlet.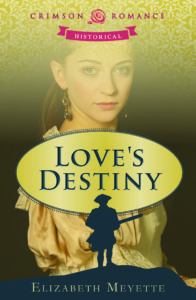 So now I had to write a romance novel. I knew I wanted to write historical, as my inspiration, Kathleen Woodiwiss, had. The American Revolution was my favorite time in history. English woman. Patriot man. Okay, there was some conflict.
One night when my youngest daughter had finished her 2 a.m. feeding and the house was quiet, I picked up a yellow legal pad and a pen and began to write. It was likely the worst opening sentence every put to paper, but I had started. It was a bit thrilling.
I wrote the first draft of Love's Destiny on many yellow legal pads—I still have that original manuscript. Eventually, I typed my story using MS Dos and saved it on 5 ¼ inch floppy disks. After a while, I transferred it to 3 ½ inch disks. Yes, this book saw a journey of many years.
Love's Destiny sat on my shelf during my teaching career, only being pulled out for an occasional touch up and transfer from one format to the newest. I didn't tell my colleagues that I had written a romance novel. I was embarrassed. Maybe ashamed of it. Like me, they taught classics from the canon of great literature. Mine was, after all, only romance. And hadn't I looked down my nose at one time? Surely, they would, too.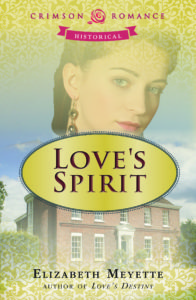 At my last district meeting for English teachers before I retired, our department head asked each of us to name a book we would be reading over the summer. I was trembling when I said, "Love's Destiny. My own book—which I've written." An audible gasp. Then I told them about my romance novel. The mix of reactions was interesting. Some snickered. Some were amused. Most were excited for me. In fact, three former colleagues are supportive in the best way. They are my beta readers and editors.
A five-year-old book is as ancient as an iPhone5 in today's industry. Publishers call it their "backlist" and for many books that means graveyard. I am thrilled that Crimson Romance/Simon & Schuster is breathing new life into my books. I love that Jonathon and Emily will have a second chance at love. I mean, just check out at the way they look at each other on that cover.