At a recent book signing, I was asked, "When did you know that you wanted to be a writer?" I was stumped, as I am whenever I'm asked that question. Other authors seem to know, almost to the exact moment, saying "Oh, I was riding my tricycle, and the plot for my first piece of literary fiction fell from the sky into the basket on my handlebars." I never seemed able to pinpoint my moment of divine revelation.
Until a memory surfaced from out of the blue.
I was only four years old when my muse, Boris, first inspired me. I suppose you could have called me pre-graphic, pre-literate or whatever term you like, but I believe this was the emergence of my writer-self.
Mom was taking a nap, and I was supposed to be doing the same. But I was sad because I had no friends to play with. So, I grabbed my box of Crayolas, slipped from my bedroom to the landing where our stairway split in two, one side toward the kitchen, one toward the front foyer. (I didn't know it was called a foyer at the time. I hadn't been struck with that literary fiction revelation yet.)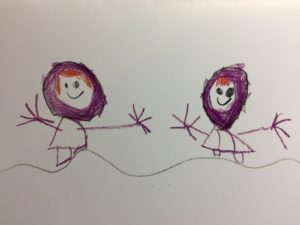 On the landing, three windows faced the side yard, and on either side of them were lovely, blank, walls. I drew stick figures as tall as my four-year-old self all along the peach-colored walls. Much like the cheery friends my granddaughter Molly created on this card she gave me. Happy friends. Friends to play with. Characters. Characters who laughed and sang and danced with me until…we woke Mom and I got spanked. Perhaps that's why I flinch when I send a manuscript off for editing.
When I taught high school English, I told my students, all writing does not happen with words on paper. That's why many of my pre-writing strategies for students included varied methods of expressing ideas…such as drawing. One of my favorite pre-writing activities was in preparation for a personal essay during my To Kill a Mockingbird unit. We brainstormed "Games I Played as a Child," and students covered the chalkboard as they listed their examples like "Red Rover, Ghost, Capture the Flag" or board games like Risk, Monopoly, or Dungeons and Dragons. What was interesting was that most of them talked about games that occurred on summer evenings before the streetlights went on, not video games.
Next, I handed out crayons and blank paper. Using their non-dominant hand, they had to draw a picture of themselves and their friends playing their games. As they drew, something magical happened. Their language changed. Sentences became shorter, words simpler, syntax less sophisticated. They chattered as they worked, not realizing they sounded more like first graders than high school students. While their choice for personal essay topic was open, many of them wrote about playing these games and insights they had as they reflected on those memories. These were some of the best pieces of writing I got throughout the year.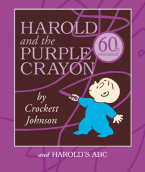 Perhaps the next time I'm drafting a story, I should do what Harold did and use a purple crayon. The influence of a novel approach is powerful. (No pun intended.)
So, when did I know when I wanted to be a writer? I can tell you the exact moment. And the spanking was worth it.
When did you know you were a writer?