A friend recommended The House on Tradd Street to me because it reminded her of The Cavanaugh House. I read it and became an instant fan of author Karen White. Today, I am thrilled to welcome Karen to my blog. I had so many questions for her, and she graciously answered them all.
How does the first seed of a story idea come to you? Does it vary from book to book?
Every book is different.  And every book has multiple seeds from multiple sources.  It's a miracle when they all come together.  Ideas come from the news, both past and present, from real life and from my imagination.
When you wrote The House on Tradd Street, did you intend it to be the first in a series, or did that organically develop?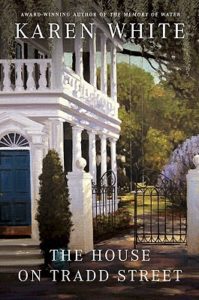 It was only supposed to be two books, and I'd already started the second one when the first book came out.  It was a big hit and my publisher asked me to do two more.  Which was great—until I realized that I needed to completely get rid of what I'd already written in book #2 because I'd set it up for all the story lines to end at the conclusion of that book, and of course they couldn't if I were going to write two more books after that.
You wrap your readers in Charleston's romantic Southern charm, yet your main character, Melanie, resists the traditions and expectations of her hometown. Is that autobiographical?
It couldn't be since I've never had a hometown.  My father was an oil company executive so I moved around a lot and never really had a place to call home until I moved to Georgia with my husband 25 years ago.
You spent many years living in London, England. Was it difficult to meld your Southern roots with your international experience? How does each location influence your stories?
The setting of my books is always like a character so I have to have an affinity for it.  Despite living all over the world growing up, I always identified as being a Southerner.  Both of my parents are from Mississippi and I spent a portion of every summer at my maternal grandmother's house in Indianola, Mississippi where I had dozens of cousins, aunts, uncles, etc. and it was wonderful.  I could kick off my shoes and go barefoot!  It helped me see the South as an outsider while still being considered an insider—the perfect perspective for a writer.
I am fascinated with the Tradd Street series because I also feature ghosts in my mysteries. My fascination with those who have passed stems from personal experience. Does yours? Or do you just like to write a good ghost story?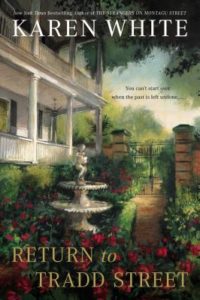 I grew up listening to my dad tell me "true" ghost stories so it's always been a fascination with me.  I've had several personal experiences (always involving my son as he seems to attract spirits) so I have to say I'm a believer.  And writing about something that not everyone believes in gives me a lot of leeway to create interesting stories.
How would you describe your writing process? Do you outline? Let the muse lead you? Or something else?
I don't outline or do any prewriting.  I start with my protagonist and her internal/external conflict and the setting and just start writing.  The story spreads from that, along with the secondary characters.
Was there a scene that was more difficult than others? One that you pondered whether or not to include it? Talk about that.
Even though I've written over 20 novels, I can't remember a single instance where I didn't write a scene or deleted a scene.  Maybe because my writing is so organic, the process discards anything that doesn't belong.  And I like writing conflict—the more the better!  Because that always means a better resolution.
How do your characters influence your writing? Do you have disagreements with them?
My characters are my writing.  They tell me the story and I just go along with it.  I'm so grateful for their help that I never argue.
What is your research process like? Do you enjoy it?
I love research (and not just because it means I get to travel to an exciting place although, yes, it usually does).  Because my deadlines are pretty close together, I usually don't have time to do a lot of research beforehand and instead usually do it while I'm writing.  Since a book is about the story and the research is just the dressing, I focus on the story, putting asterisks in for places I need to go back and add details.  For historical scenes, I will buy a lot of books about a particular period and so some pre-reading before writing so I have a general idea of the world my characters will live in.
Is there an aspect of writing that you favor over others, e.g. dialogue, exposition, description of a scene, setting, or character, etc.? Is there one that is more difficult for you?
It's all difficult!  Dialog is fun to write because I get to really explore a character that way.  But it's important to make it the voice of the character and not my voice.  Of course, a book can't be all dialogue—and I'm glad.  A nice mixture of description, setting etc. makes it interesting for the author.
What books have influenced you as a writer?
Everything from Pat Conroy.  Gone With the Wind.  To Kill a Mockingbird.  Outlander.  And about a million other books I've read since I first learned how.
What is the best piece of advice about writing that you have ever heard or read? What would you tell aspiring writers today?
Just Do it.  It's easier to fix a bad page than to stare at a blank one.
What is the biggest chance you've taken as a writer? How did that work out?
The House on Tradd Street was a huge departure from my successful "grit lit" novels I've been writing.  I knew this, but the story and characters wouldn't let go of me so I had to write it.
Your latest book, The Night the Lights Went Out, was released in April 2017. What surprised you as you wrote this book? What amused, angered, or puzzled you?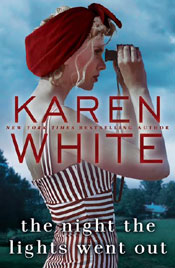 The book contains an anonymous blogger and I wasn't really sure how that would work.  I was surprised not only how much fun it was to write, but how well received it was with readers!  It was the first time I'd ever been able to blatantly use my voice/thoughts/opinions and I loved it!
What do you wish I had asked you about but didn't? Talk about that.
With writing and promoting two big books a year, when do I have time to sleep and manage the rest of my life?
Answer: discipline and organization.  And a personal assistant.  I finally broke down and hired one this year, and it's the best decision I've made in a long time!
What a delight to visit with you today, Karen. I wish you all best.
About Karen White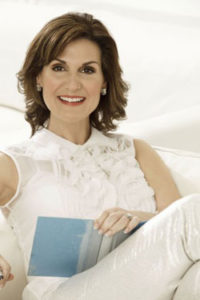 After playing hooky one day in the seventh grade to read Gone With the Wind, Karen White knew she wanted to be a writer—or become Scarlett O'Hara. In spite of these aspirations, Karen pursued a degree in business and graduated cum laude with a BS in Management from Tulane University. Ten years later, after leaving the business world, she fulfilled her dream of becoming a writer and wrote her first book. In the Shadow of the Moon was published in August, 2000. Her books have since been nominated for numerous national contests including the SIBA (Southeastern Booksellers Alliance) Fiction Book of the Year, and has twice won the National Readers' Choice Award.
Karen is a New York Times and USA Today bestselling author and currently writes what she refers to as 'grit lit'—Southern women's fiction—and has also expanded her horizons into writing a mystery series set in Charleston, South Carolina. Her 23rd novel, THE NIGHT THE LIGHTS WENT OUT, was published April 11, 2017 by Berkley Publishing, a division of Penguin Random House Publishing Group, and debuted at #15 on the New York Times hardcover bestseller list.
Karen hails from a long line of Southerners but spent most of her growing up years in London, England and is a graduate of the American School in London. When not writing, she spends her time reading, scrapbooking, playing piano, and avoiding cooking. She currently lives near Atlanta, Georgia with her husband and two children, and two spoiled Havanese dogs.
Visit Karen and purchase her books at her website http://karen-white.com/