I am so excited to share an excerpt from the opening scene of Love's Courage with you. It's the third book in The Brentwood Saga, which includes Love's Destiny and Love's Spirit.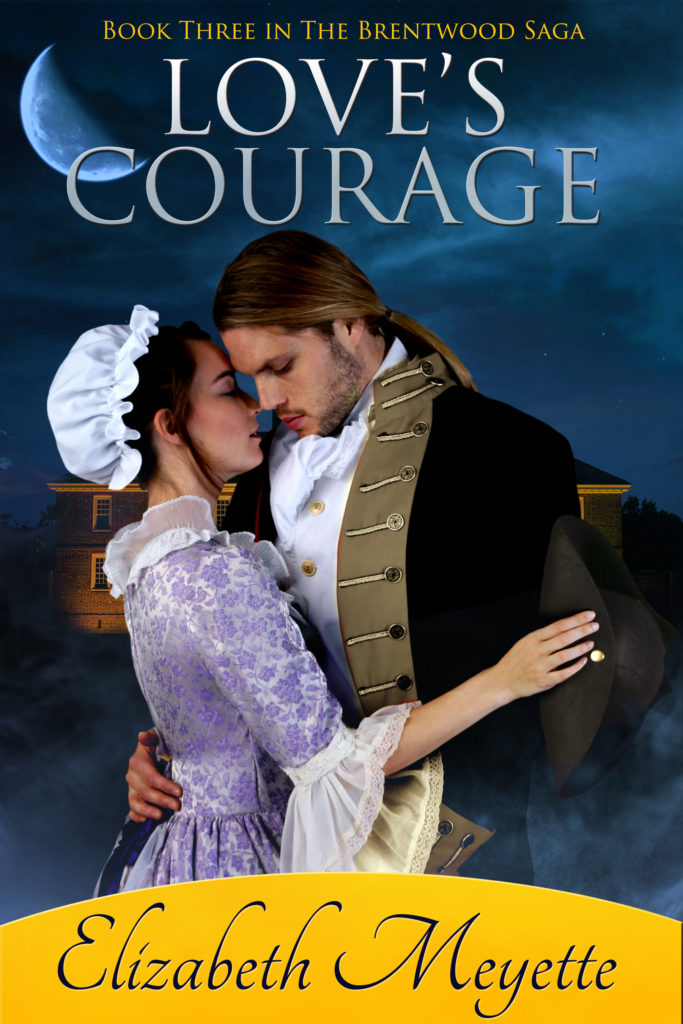 Genre: Historical Saga, Women's Fiction
Publisher: Boris Publishing
Pre-Order Date: October 18, 2017
Release Date: January 9, 2018
Chapter One
July 1777, Yorktown, Virginia
When had lying become so easy?
"Did you hear me, Jenny?"
"Yes, Uncle Jonathon." Jenny Sutton pulled her white linen scarf snug, crossing her arms over her stomach, against the visceral guilt that pulsed there. She stared into the slate-blue waters of the York River, avoiding his gaze. The integrity of Captain Jonathon Brentwood was known far and wide. He was respected by Patriots and hated—perhaps feared—by the British. An honest man.
"You're certain of your mother's wishes? That she wants you to join her? New York City is thick with British troops since they occupied Manhattan last December. I can't understand Constance demanding your return." He leaned his forearms on the brass railing of his ship, the Destiny.
"Yes." That was all she could say. She could not repeat the lie. She didn't want Jonathon to sense her dishonesty. She wanted him to continue to think of her as courageous … and honorable. Her hand moved to her bodice where Mother's letter lay heavy against her skin, heavy with the lie Jenny had told him. Mother's letter detailed Father's wounds but assured her that he was receiving excellent care and would recover soon. Mother had insisted she not to sail to New York, saying the city was too dangerous with the British occupation.
When she had first read the message, Jenny had sensed a graver injury to Father than the letter revealed. Whatever it took, she had to help Father. Even if it meant lying to Jonathon. Even if it meant never seeing Andrew again. How was she to make this choice—her father or the man she loved? Well, she had decided, thus Andrew was lost to her forever. Her gaze flicked to Water Street, running along the shoreline, then up to the ridge above.
Jonathon's gaze followed hers. "We can wait no longer to set sail. I'm sorry that Andrew didn't arrive in time to see you off."
She nodded, knowing that Andrew would not arrive in time, but unable to resist searching. Finally, she turned to him. He was the epitome of a ship's captain, with broad shoulders and tanned skin. A gust of wind blew down from the ridge, blowing about his dark brown hair, gathered in a queue with a leather strap at the nape of his neck. His eyes, the rich color of coffee served at Charlton's, reflected his concern.
"How badly was Edward injured?"
"She said that Father was involved in a skirmish with a Tory. Father was injured—he's bedridden—the wound isn't healing. Mother is anxious about his recovery and needs me there. She must be devastated."
"So, of course she wanted you to join her …"
"Of course." She looked back at the river, her insides twisting with guilt.
Her knuckles turned white as she gripped the brass railing tighter. The metal scorched her hands, like the lies that burned her heart. Lies that were necessary if she were to accomplish this journey.
Lies that were growing too heavy to carry.
LOVE'S COURAGE will be available for pre-order October 17, 2017.