While I love snowflakes staying on my nose and eyelashes, I have a few other favorite things this time of year.
My Noel Angels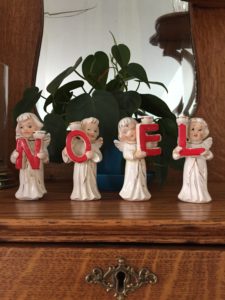 My mother always placed these angels on the fireplace mantel when she decorated for Christmas. I remember playing with them from the time I was very young (that's why they're glued in so many places). My children rearrange them to spell other words. They're teasing me, but I know that they think of my mom every time they touch the Noel angels.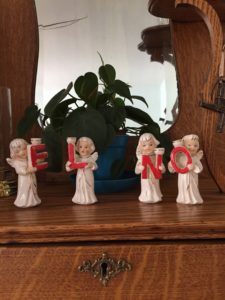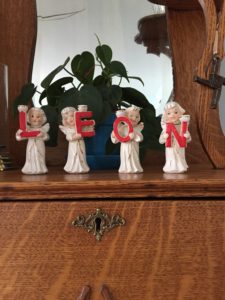 Macaroni Ornament
I've saved every ornament my three kids made from kindergarten through middle school. For me, decorating the Christmas tree isn't a chore. It's a walk down memory lane. Each time I hang an ornament, I think about its history and the person who gave it to me.
Oh, Christmas Tree
Bernadette, my best friend from high school, made this ceramic Christmas tree for me in 1970. I put it out every year. Though Bernie and I live hundreds of miles away, she is with me at Christmas when I light up this tree.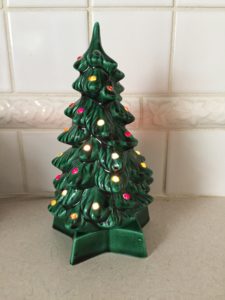 Our First Christmas
Rich and I married in 2004. He is the most wonderful person I have ever known, and every day I thank God for him in my life. When I hang this ornament, I think of the love that fills our home and how very blessed we are.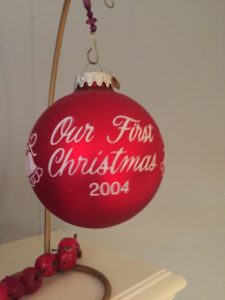 How easy it is to get caught up in the bustle of my Christmas to-do list. But my favorite things offer a chance to step back, slow down, and appreciate the special people in my life. This is the gift of gratitude, and my favorite things remind me to give thanks.
Please Share Your Favorite Things
I would love to know what favorite things bring special meaning to you this time of year. If you'd like, include a picture 

Merry Christmas, Happy Hanukkah, Happy Kwanza, or Happy Holidays, I wish you peace, love, and joy today and throughout the New Year.