When I met Linda Sienkiewicz at the Great Lakes Book Bash, we became instant author friends. Hearing about the powerful book she'd written, I had to invite her to share it on my blog. Welcome, Linda!
What was the first seed of an idea you had for your book? How did it develop?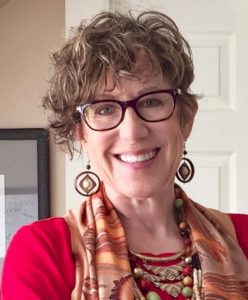 In the mid-nineties, I read a magazine article titled "My Father Was a Rapist" about several women who learned this horrifying truth about their conception. This knowledge shook each of them to their core, but their courage and resilience impressed me. I carried their stories with me for years. For my novel, In the Context of Love, I created a character named Angelica who was conceived in the mid-fifties when her mother was date-raped at age seventeen. This was a time when claims of sexual assault were met with great suspicion and an unwed mother was a scandal. As a result, the mother was pressured by her parents to create a false narrative about the father. She eventually married when Angelica was three, and this man raised her as his own. I didn't know how Angelica would learn about her birth father, or what would happen when she did, but that's the joy and challenge of writing.
And I knew there had to be a love story, which is Angelica and her high school sweetheart. That's just the romantic in me.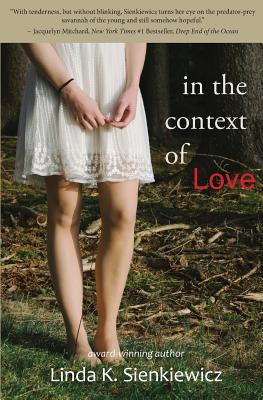 After I finished the manuscript, I realized In the Context of Love is about family and the lies we tell ourselves— the myth of the perfect family. We look at others and wonder why their lives are perfect when in reality they aren't. There's a level of dysfunction in every family. Some people go through a stage where they don't think they belong in their family. After Angelica accidentally discovers a life-altering family secret, she can't reconcile reality with the fantasy she was raised believing, and has to leave home to find her own truth.
Such a fascinating premise. What do you keep in mind as you write? An overarching question? A theme? The last line of the book?
Since I'm a visual artist, I liken writing a book to building a house backwards: I start out with a vague idea of what I want the house to look like. I build the rooms, or write the scenes, first, and then I figure out where to put the halls and stairs that connect the rooms. Along the way, I often have to add another floor, take out a wall, or dig a bigger basement. It's a big project.
Yet I love rewriting when I can go deep into the scene and flesh everything out. The chore for me is pounding out that first draft, which seems to only brush the surface of emotion. When I'm about 50,000 words in, I start to get excited.
What is the best piece of advice about writing that you have ever heard or read?
You need some kind of conflict to keep the reader asking "how will ever this be resolved?" Conflict is vital in nearly every scene and every bit of dialogue. You also need characters that the reader cares about, even if they're flawed or do bad things. I think everyone enjoys stories of redemption. We want to believe everyone can be healed and redeemed.
Did anything about your characters surprise you as you were writing?
My characters took some unexpected turns. I worried about Angelica's behavior. She was falling into a deep hole and I had to be sure I could get her back out. Her husband, Gavin, was shady and unpredictable, and I found it interesting to follow him over to the dark side. Angelica's father, too, surprised me. I didn't think he'd end up being such a pivotal character.
Do you enjoy research?
I do enjoy it as a necessary part of writing. The more you learn, the more it informs what you write, even if you don't use every bit of information. Research can take surprising turns, too. One of my character's parents are Hungarian immigrants. I happened to stumble across a page on the internet with the most colorful Hungarian curses you could imagine. I'd never heard anything like it. A fellow writer and native Hungarian confirmed everything I read. She said "Hungarians don't just damn you to hell because that's too easy." I can't share what they'd really say here. It's too lurid. You'll just have to read the book!
Have you ever had to do major rewrites? What was your approach?
When the manuscript was in chronological order, the opening chapters read like a YA novel, but it is definitely not YA. The novel needed to begin when the Angelica is an adult.
I struggled to find the best opening. I came up with four possible scenes that I thought might have worked as a new beginning. To see how the story would progress, however, I had to basically reshape the rest of the novel—I had to do this for each of the four scenes! It took weeks of trial and error. I sweated bullets of self-doubt while shuffling index chapter cards on the floor. For a while I was unhappy, preoccupied, snappish, and difficult for my family to get along with. I didn't even get along with myself.
An editor suggested I start at the lowest point in the character's adult life: when she takes her two young children to visit their father in prison. Once I settled on this opening scene, everything made sense. I still had to work on the transitions so the flashback fit seamlessly into the story. The trick was to make the scenes from the past meaty enough that the reader didn't mind straying from the present day narrative for awhile.
That's so much work! I admire your dedication to make your novel the best it could be -kudos to you, Linda. What is the biggest chance you've taken as a writer? How did that work out?
During my search for a publisher, self-doubt caused me to take a big step backward.
Angelica, the narrator of In the Context of Love, realizes she needs to talk openly about her devastating family secret. It's her only salvation. I had this wild idea—what if she tells her story to her first love, the one who got away? I had nothing to lose by trying it.
So I wrote the manuscript in second-person address, as an I-to-you story: "For so many years you were a memory circling my bed at night. I talked to you as if you were there with me, nodding in approval, understanding, never judging. You were a benevolent bird, a wise owl perched on one shoulder, as if my brain insisted you stay in my life, even though I cursed you for leaving without a good-bye." In this way, the reader is drawn into the relationship, and an intimate story (hopefully) becomes an intimate experience for the reader. If it were a strict first-person narrative, Angelica would simply be telling the reader about her tragic story.
When I was midway in the query process (and getting rejections), I feared agents viewed the second-person address as off-putting or risky, so I switched the entire manuscript over to a typical first-person narrative. I found a terrific agent, but wouldn't you know it, she couldn't sell it. Most editors liked it, but they didn't think it would rise above the other midlist novels, so they passed. After wallowing in self-pity for a while, I went with my gut and returned the story to the second-person address. I submitted the manuscript on my own to small literary presses. I think this made all the difference in the world by giving the story the unique edge it needed. I was delighted when Buddhapuss Ink LLC offered me a contract.
In the end, I'm thankful the agent couldn't sell the earlier manuscript. It wasn't ready.
Kudos again for believing in your dream! What conflicts did you find as you put your book together?
Early in the writing process, I feared the lapses in Angelica's judgment might turn off a segment of moralistic readers. She is a good person with a troubled past who's sinking fast and desperate for answers. Her worst transgression is ending up in bed with a former classmate after a reunion. I worried how this might be received, but a fellow writer told me, "It's okay to have your readers get angry with your characters." As predicted, Angelica's poor choices did indeed anger a few readers, but this is a risk writers have to take. Real people are a mix of desirable and undesirable traits. As writers, we have to create balance. She redeems herself.
Is there anything that surprised you after your book was published?
I was shocked that one reader said the book had too much sex. In a way, sexuality is a theme of the book (including how people use it against one another), but it's a far cry from erotica. Far from it. It's more about human development. Someone else commented that there was too much profanity. That was a surprise, because I used profanity to show character development. Rebellious teens grow into adults who charge their children a dollar every time they curse. Oh  well. What I learned is you can't explain things or defend your writing to your readers. They will interpret the story as only they can. As a published author, you have to let it go.
Is there anything else you would like readers to know about you?
I am really good at keeping secrets. I love a good story—so tell me yours. My email is lindaksienk@live.com
What a delight to visit with you today, Linda. Your commitment to your craft and your determination to see this book published are inspiring. Thanks for sharing your story.
Connect with Linda:
Website: http://lindaksienkiewicz.com
Blog: http://lindaksienkiewicz.com/blog
Facebook: http://www.facebook.com/lindasienkiewicz.author/
Twitter: http://twitter.com/LindaKSienkwicz
Goodreads: http://www.goodreads.com/author/show/5623982.Linda_K_Sienkiewicz
Sales link:
Amazon http://www.amazon.com/Context-Love-Linda-K-Sienkiewicz/dp/1941523048
Indie Bound: https://www.indiebound.org/book/9781941523049
Barnes and Noble http://www.barnesandnoble.com/w/in-the-context-of-love-linda-k-sienkiewicz/1122508189
About the book:
In the Context of Love is the winner of four awards: 2016 Sarton Women's Book Award Finalist Award, 2016  Eric Hoffer Finalist Award, 2016 Readers Choice Finalist Award, and 2016 USA Book News "Best Book" Finalist Award.
What makes us step back to examine the events and people that have shaped our lives? And what happens when what we discover leads to more questions? In the Context of Love revolves around the journey of Angelica Schirrick as she navigates first love, a devastating family secret, heartbreak and betrayal. She ends up with the wrong man, living the wrong life, yet through it all, the lessons she learned from her first love serve as her compass, even as she's guided into unexpected territory.

About Linda:
Linda K Sienkiewicz attributes her creative drive to her artistic mother, who taught her to sew, and her father, who let her monkey around with the gadgets in his workshop. A scholarship art student, she worked in graphics before raising a family. Years later, she returned to her other passion, writing. Her poetry, fiction and art have been published in more than fifty literary journals. She has a poetry chapbook award, Pushcart Prize nomination, and an MFA from The University of Southern Maine. Linda works as a volunteer for Rochester Area Neighborhood House Inc., a nonprofit human service organization.