This is my second "musing" on the experience of
being a part of the cast of Les
Miserables recently. If you have ever had an experience that was so big, so
amazing that you had a difficult time explaining it, you will understand.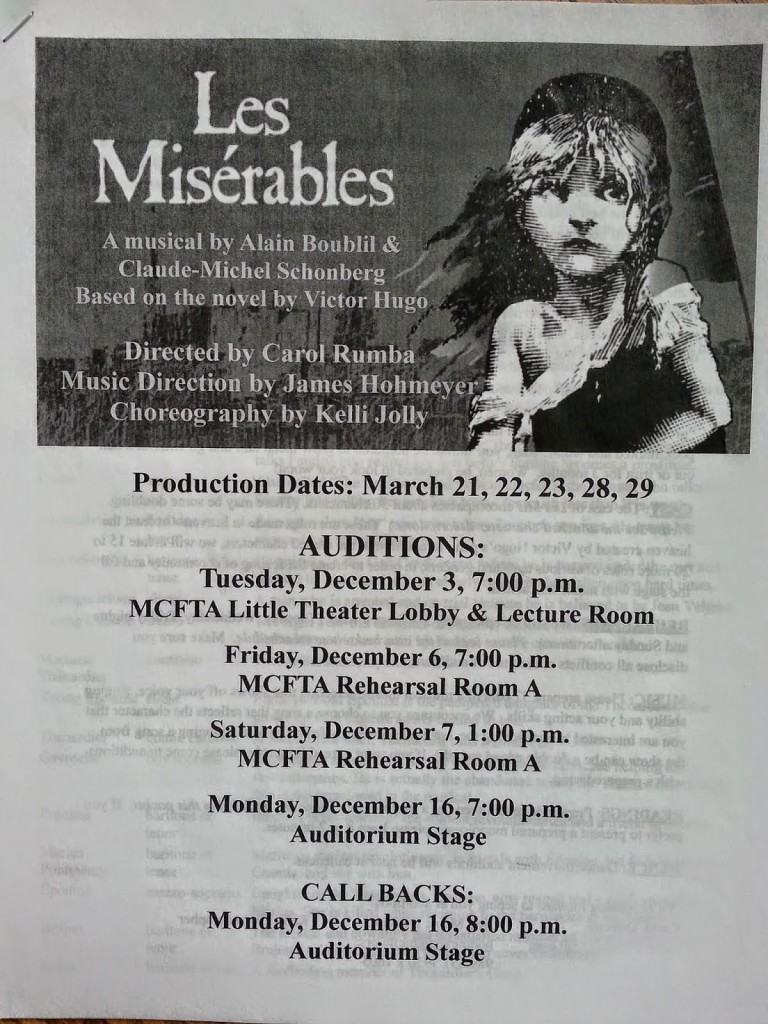 I couldn't wait for January. And I never say that.
But January 7 was our first rehearsal for
Les
Miserables
, and it got me over the post-holiday blues fast. Walking into
Rehearsal Room A, I could feel the air was electric with excitement and nerves.
I knew a few people from Chorale, but most of the cast members were strangers.
Since this was only my fourth show ever, I wasn't sure what the drill was, so I
sat next to Emily and watched what others were doing. I dutifully handed in the required pages of
my audition packet and got my head-shot taken. Many people knew each other from
other shows, and lively conversation filled the air around me. But I didn't
know most of them and they weren't my friends…yet.
Our director, Carol, immediately set the tone for
what would become a family atmosphere. She told us to introduce ourselves to
someone we didn't know. I turned to Jordan, a petite, beautiful college student
who was as thrilled as I was to be cast in the show. All of us were pinching ourselves
to be sure we weren't dreaming. Then we each stood and introduced ourselves and
what part we had in the show. We all
burst out laughing when Claudia stood up and said, "Hi, I'm Claudia and I'm a
whore." She was one of the "Lovely Ladies," and each of them stood up and
proudly announced, "I am ____, and I'm a whore." It was the start of rehearsals
filled with laughter and camaraderie.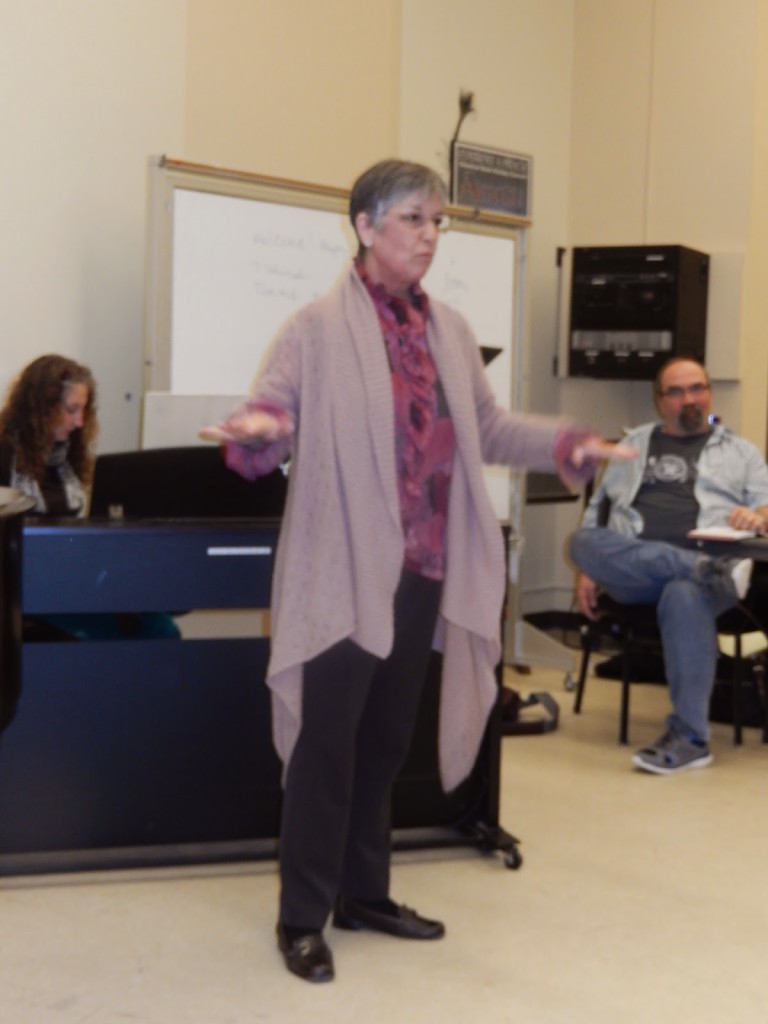 Photo by Tawny Nelb
I couldn't believe we would run through the music at
the first rehearsal, but Jim, our music director was confident we could do it—and
did we ever! People were so happy to have a part in this show that voices
soared and, already, tears flowed. As I said in my last post, sometimes there
are no words. Jim said it was the best first sing-through he had ever
experienced. Bonds started to form that night, and the family feeling would
last through set strike and beyond.
Tape covered the floor in a color-coded maze that we
would come to understand as different levels of the set. Two of my entrances
were up a ladder from the sewer, so I sat where the X indicated a hole in the
floor of the stage. Spatial relations are not my strong suit, so I had a hard
time envisioning how this would look. The night Kristen, the set designer,
revealed a small model of the set we were amazed. She was so proud, and now we
could see a three-dimensional mock-up of a very ambitious set. But we were
sworn to secrecy so that the big reveal for the public would be opening night.
Opening night seemed so far away…
The age range for the Les Miz cast was
four-years-old to seventy-two. Jim admitted to being the oldest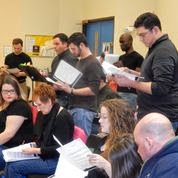 Photo by Tawny Nelb
member of the
cast and referred to himself as "Grumpy Grandpa Jim" which, of course, he never
was. He and I were partnered in The Innkeeper's scene where I was supposed to
be passed out on the floor most of the time and he kept taking away my mug. It
was great fun. The little kids had a blast running around during rehearsals,
but they never interfered with a scene in progress. Even the little ones seemed
to respect what it meant to be a part of this show.
My heart and mind are filled with so many memories
of this journey. I write quickly to try to commit them to paper before they
slip away like smoke. When I think back to this time period, it's like being
wrapped in a warm blanket. I told my husband, Rich, that there was not one
negative moment during this whole time. Put all the people together who worked
on this production, add fun, hard work, beautiful voices, let it season for
three months…it's a recipe for magic.