Jackie Braun loves to write…just look at her list of titles. I have had the pleasure of meeting with Jackie to commiserate over WIPs, industry trends, and other joys and struggles of the writer's life and every time I come away feeling energized and recharged. I'm so pleased to have her as my guest today. Jackie, tell us a little about yourself.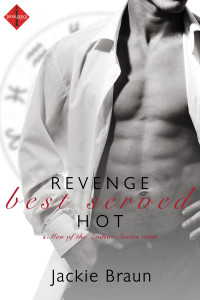 I write mainly contemporary romance, although I did have a paranormal/time travel novel out last year. I've been around the block a few times in this industry. My first book, One Fiancée to a Go, Please was a Silhouette Romance that came out in 2000. Since then I have been busy writing, editing and raising kids. My newest book, Revenge Best Served Hot, is with Entangled Indulgence. It's my 31st full-length book. I've also published four novellas.
I am amazed and inspired by the number of titles you have written. How did you celebrate the publication of your first book?
My first book came out in October 2000. It was a crazy time since my husband and I had just adopted our first child the month before. We were over the moon to be parents, so the publication of my first book was icing on the cake. I celebrated by taking money from my first royalty check and buying myself a really nice pair of gold earrings.
I like that kind of celebration. On the flip side, how do you handle major rewrites?
Well, first I cry. Kidding. Mostly. It's always difficult to get back revisions, whether minor or involved. My first reaction tends to be to shoot back a defensive email. I don't. Instead, I let the revisions simmer overnight. Then I go through them a second time with an objective eye. My editor has the same goal I do: To make the book the best it can be. So, I try to keep that in mind. Most of the time I agree with the changes being suggested, and I'm grateful for her insight. When I don't, I explain why and hold my ground.
What food or beverages do you turn to while writing?
Coffee in the morning. I can't start my day without it. And I love Diet Coke. For a while I tried to keep dark chocolate on hand so I could eat a square or two a day. (Snort!) I devoured one of those big bars in one sitting. I have no control when it comes to sweets, especially chocolate.
I'm with you when it comes to chocolate—I am an admitted chocoholic. What is the best piece of advice about writing you ever got or read?
Write the kind of book you want to read. It sounds so simple, but it's not always easy, especially if you start paying attention to the market and what's hot right now. That reminds me of another gem I recall hearing at a conference: Don't chase trends.
That advice reminds me of a quote from Toni Morrison, "If there is a book that you want to read, but it hasn't been written yet, you must be the one to write it." What are you working on now?
I have another contemporary romance I'm working on for Entangled, then I'm kicking around an idea for a Young Adult book. It's something I've wanted to write for a while now, but I haven't had the time.
I admire your dedication to the craft. Thanks for being my guest today, Jackie. I wish you all best!
Jackie's books are available at:
Buy links for all platforms can be found here: http://www.entangledpublishing.com/revenge-best-served-hot/
Visit Jackie at:
Website: www.jackiebraun.com
The Chocolate Box (where I blog once a month): www.chocolateboxwriters.com
Facebook: https://www.facebook.com/authorjackiebraun
Twitter: https://twitter.com/Jackie_Braun