My One Little Word for 2015 was Embrace. I needed really long arms to embrace all that came at me this past year. It's been a year of huge life changes, much joy and some sadness.
My husband retired, we sold our home in one city and moved to a new home in a new city where two of our three children and their spouses live. Embracing this move was easy. We love being near our kids, it's a lively, artsy, diverse city, and our new home is perfect for us. The flip side, of course, was leaving behind wonderful friends and involvement in many organizations and activities.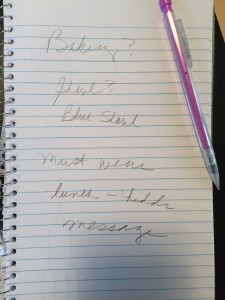 My One Little Word for 2016 is Passion. Now you may be thinking, "She writes romance, of course she'd pick passion." That's not the passion of which I speak, though I intend to heed that passion, too. I mean the passion that grabs me in the middle of paying bills and demands I write this scene NOW. The passion that keeps me typing an hour after my timer went off alerting me to take a break from typing. The passion that wakes me up at night and insists I write down this idea/dialogue/scene in my bedside notebook, in the dark without waking up Rich. The passion that allows me to interpret what I wrote down in the dark the next morning in the light.
This passion has a flip side for me: disorganization. Ideas come at inconvenient times when a sticky note can't be found. Or I create a file on my computer for blogs that are so incredibly inspiring it makes my head spin. Then I forget about the file. Or I bookmark it under "Gluten-free Recipes" by mistake. Before I pack away checkbook stubs, I leaf through them for notes-to-self.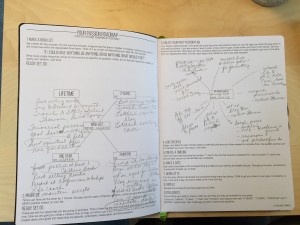 My son Matt and daughter-in-law Rachel gave me the perfect Christmas gift: The Passion Planner. This is a large calendar/planner/goal-setter/journal that includes guidelines for organizing my thoughts, goals, ideas, dreams and, of course, passions. Since I use the calendar on my phone, I have stopped keeping a paper calendar. My whole adult life I've had hanging on the side of the refrigerator a calendar with large blank blocks that I wrote in with a red fine-tipped marker. I could see the "month-at-a glance" and that gave me great joy. When I taught, I had a similar sized planner that I filled in with pencil because I hate to cross things out. I've missed those calendar/planners. Now I have one again.
My hope is that this planner will keep me on track, keep my goals in sight and keep me focused. I've already taken the first step in it and created my Passion Roadmap. From there I created my First Passion Plan. Part of me thinks its one more thing to keep track of, but deep down in my gut, where passion grips me in the middle of folding the laundry, I think this might just be the life coach I need.
What's your One Little Word for 2016?
Featured image: http://zoeelmore.com/wp-content/uploads/2014/03/passion_.jpg