The Christmas season seems to bring out the romantic in everyone, and Susanne Matthews is no exception. Today she talks about her two Christmas tales inspired by a true story. Welcome, Susanne.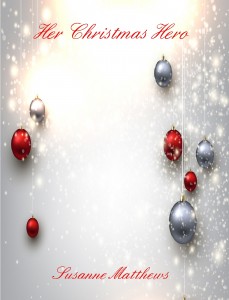 Merry Christmas! Thank you so much for having me here at this busy time of year. I hope you enjoy the holidays. An author is often asked where the idea comes from for a book. I thought you'd like to know a bit about what motivated me to write Her Christmas Hero, and its follow-up book, The Best Day Ever. Both of these are short stories, so they are quick and easy holiday reads that can be done over a lunch break or while relaxing briefly after wrapping or finishing up some necessary chore.
The easiest way to start is to tell you that my heroine and her four children are based on real people I know very, very well. My hero, however, is definitely a figment of this writer's imagination.
Back in September, something absolutely despicable happened to this young widow, and the thought that anyone could stoop so low and steal from a person fighting so hard to make a better life for herself and her children really upset me. The fact that the person committing this felony might never even get punished for it sat badly with me. I thought to myself, I wish there was something I could do. I provided some financial support, but for the woman in question it was a tough pill to swallow. It was sadly also a life lesson, one that unfortunately will impact her ability to trust people for a long time to come.
The basic theft and how it happened motivated me to write the story, but unlike life, this is a romance with a Good Samaritan to solve the lady's problem, but if there were, he'd have to be someone like my hero, a man who understands that her children come first and always will. Those kids are the light of her life and anyone who knows them will agree she's doing an outstanding job raising them.
I hope you enjoy my holiday stories.
Book Blurb for Her Christmas Hero:
Widowed mother of four Laurie Wilson gets a shock when a check that was supposed to have been destroyed is cashed, leaving her in a financial lurch just days before Christmas.
Leland Ostler packed his heart in ice years ago and goes through the Christmas season paying lip service to the holiday. When he discovers Laurie Wilson is the girl he was fascinated by in high school and discovers her plight, he determines to make sure that family has the Merry Christmas it deserves.
Excerpt from Her Christmas Hero
Moving as swiftly as she could along the slush covered sidewalk, Laurie kept her head down watching for icy spots that could end up in an embarrassing spill. Cassie was right, it was much worse out here than she'd imagined. The possibility school would be over earlier than expected worried her. Mike had a key, but a ten-year-old wasn't an adequate babysitter for his nine, eight, and six year old siblings. It was only for a couple of hours, but who knew how many things could go wrong in that short time period? Marcia, the neighbor's teenage daughter, usually went into the house and stayed with the children until Laurie got home, but the teen had finished school last week and gone south with her family.
Stop borrowing trouble. It's Christmas. The sleet will stop. Think positive.
Turning the corner, careful not to run into anyone else, she stepped into the electronics shop. The place was deserted.
"Hi," she said, walking up to the counter, and forcing the teenaged clerk to set aside her magazine. "I'm Laurie Wilson. I have four tablets to pick up."
Buying the android tablets for the kids was an extravagant purchase, but most of their friends had electronic toys and computers. She'd love to get them each a laptop, knowing Michael would need something better than the dinosaur PC she had at home, but this was the best she could do.
The girl returned to the counter with the four boxes in her arms. "You're lucky you came in when you did. These have been flying off the shelves. That'll be $695.79," she said, keying the amount into the cash register.
Laurie slipped her bank debit card into the machine and followed the instructions.
Transaction denied.
Buy Link: http://www.amazon.com/Her-Christmas-Hero-Susanne-Matthews-ebook/dp/B017TGEVAC
Book Blurb for The Best Day Ever, Her Christmas Hero Part Two: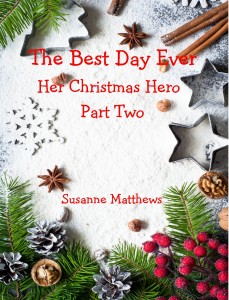 When Leland Ostler recognizes the woman who ran into him is none other than the girl he tried to get to know in school, the one who always ran away, he's determined to get to know her and try again. She's a widow now, with four young children, and how better to win her trust than by making her children happy?
Laurie Michaels had a crush on her friend's big brother years ago, but the man's her boss now. When he invites her and her children to his home to help out with his visiting nephews, how can she resist?
Excerpt from The Best Day Ever
It was amazing how things could change so quickly. At this time yesterday, she'd been so far down in the dumps, a crane wouldn't have been able to pull her out, and then Lee had returned her phone and invited her kids to be part of his nephews' Santa celebration.
The last time she'd seen Sonia had been at graduation at least fifteen years ago. Seeing her old friend again would be nice, and even if she was there as a glorified babysitter, who cared? Her kids would have a great time, and it was the least she could do for the man who'd returned her phone and given her a week's vacation.
When she'd told the kids she'd be home with them all week instead of Mrs. Bingley, you would've thought Santa had come early. Normally, they would've put the tree up today, but now they would do it tomorrow, after the last practice for this year's pageant at the church. Christmas wasn't until Friday, and there would be lots of time for tree trimming and playing in the snow, as well as watching all the Christmas movies. Movie night each night would be an extra treat since no one had to get up early for a whole week. If it got warmer, they could even build a snowman. And of course, the children could help with dinner. Her parents would join them on Christmas Eve at church and for Christmas dinner. It would be the best holiday they'd had in years.
Buy Link: http://www.amazon.com/Best-Day-Ever-Susanne-Matthews-ebook/dp/B019D70HE4
About the author: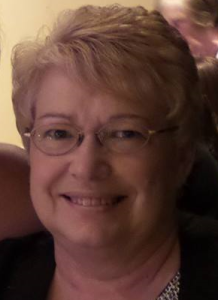 Canadian writer and retired educator, Susanne Matthews, is an Amazon bestselling author with a number of books to her credit in a variety of romance subgenres including suspense, paranormal, historical, science fiction, and contemporary.
She lives in Eastern Ontario with her long time husband and enjoys traveling, camping, reading, and visiting with her grandkids.
You can learn more about her on her website. http://www.mhsusannematthews.ca/
Follow Susanne's Blog: https://mhsusannematthews.wordpress.com/
Facebook: https://www.facebook.com/SLMauthor
Twitter: https://twitter.com/jandsmatt