Writing a series can be challenging because of pesky issues like enough—but not too much—backstory, keeping characters' names, physical attributes and personalities consistent, and keeping the stories fresh. Today Alice Orr talks about how she planted this garden and keeps it thriving in her Riverton Road series. Her latest in the series is A Villain for Vanessa. Welcome, Alice!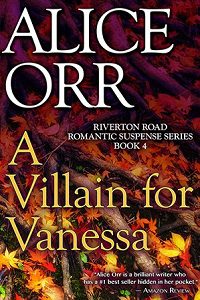 A fiction series is a living thing. To keep it alive the author must keep it growing. She must never allow it to stagnate.
An important component of a growing series is its location. In my Riverton Road Romantic Suspense series, the setting is a place I know well, the North Country where I grew up. Not the actual North Country, but an idealized version. A town and region airbrushed into a fantasy hometown for me and my readers.
We want to return there again and again because we can't get enough of Ginny's Coffee Corner or Jeremy's Lounge. Or in Book 4 of the series, A Villain for Vanessa, we can't get enough of the beautiful, though sometimes perilous St. Lawrence River. Plus there are more irresistible Riverton venues to come, and sinister ones too, because my North Country is alive and growing.
Each book revolves around a suspense story. Usually that story is a murder situation, but this won't always be the case. Gripping suspense arises from threat and terror, and many circumstances can spawn this chilling duo. Keep reading to find out what, why and who future villains may be. I switch up subject matter to keep my series alive and growing.
Most of all Riverton Romantic Suspense focuses on family. The Kalli family of Riverton Road appears in three books so far. Book 1 – A Wrong Way Home; Book 2 – A Year of Summer Shadows; Book 4 – A Villain for Vanessa. So what about Book 3 – A Vacancy at the Inn? Let me share my thinking with you.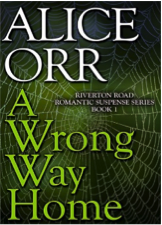 I love the Kalli family – Angela, Gus, their four gorgeous sons and, in A Villain for Vanessa, their de facto adopted son Bobby. My readers tell me they also love the Kalli family. I worry all the same about stretching their scenario too thin. So in Book 3 – A Vacancy at the Inn, I introduce the Miller family of Miller's Inn on Riverton Road Hill.
The matriarchs – Angela Kalli and Millicent Miller – are good friends. Riverton is a small town after all. We expect everybody to know everybody else, and everything about everybody else. What's unexpected is that A Vacancy at the Inn has no murder in it, because that wouldn't be suitable for a Christmas story in my opinion.
Will this softer plot turn continue as the Miller daughters and their friends reveal their tales? I can tell you now that Book 5 is about Amanda Miller, and some scary stuff may happen to her. I can also tell you there will eventually be a third Riverton household quite different from the Kalli family and the Millers. A household of single mothers sharing a home to make financial ends meet and for mutual emotional support as well.
Why am I bothering with these changes and machinations, besides to make sure my series stays vibrant and filled with surprises? I do it because I want to remain in Riverton, New York for a long time to come. Nothing beats a lively trip back home.
A Villain for Vanessa
A story of tangled roots and tormented love.                                 
Two families are shaken to their roots. Vanessa Westerlo must find her roots. Bobby Rizzo is torn between Vanessa and his true roots. They are all tormented by love – past and too present. Meanwhile a man has been murdered. And that is the most tormented tangle of all.
About the Author: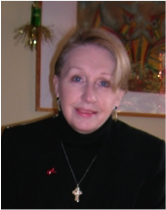 "Alice Orr is a brilliant writer who has a number one best seller in her pocket," says one Amazon reviewer. Alice loves to write. Especially romantic suspense novels and blog posts. She's been a workshop leader, book editor and literary agent. Now she lives her dream of writing full-time. So far she's published fifteen novels, three novellas and a memoir – either traditionally or independently. Alice wrote her nonfiction book, No More Rejections: 50 Secrets to Writing a Manuscript that Sells, as a gift to the writers' community. A revised edition is now in progress. Amazon says, "This book has it all." And calls her novels, "Delicious well written suspense spiced with a love story." Most of all, Alice is thrilled to hear from readers. Visit her at her website http://www.aliceorrbooks.com. Alice has two grown children and two perfect grandchildren and lives with her husband Jonathan in New York City.
Visit Alice at:
http://www.facebook.com/aliceorrwriter http://www.twitter.com/AliceOrrBooks
A Villain for Vanessa and Alice's other books are available at http://www.amazon.com/Alice-Orr/e/B000APC22E/ and other online retailers.