This is a repost of a blog I wrote in July 2013. It is my most popular blog post, and I continue to get hits on it everyday. I also continue to get comments–some very poignant–about loved ones whose passing is followed by a similar visit. I wanted to share it again because this was such an extraordinary experience for me.
What I am about to tell you is true. Caveat: if you are a pragmatist, I will probably make you angry.
Sunday night after printing out poems I needed for a poetry group meeting the next day, I shut down my laptop and joined Rich in the living room to watch 60 Minutes (Hugh Jackman was on a rerun). I heard a clicking noise in my office and thought, I know I turned my printer off. Returning to my office I walked past both windows and sat at my desk. Yes, the printer was turned off. Hearing the noise again, I looked at my east-facing window where I have chakra beads hanging to catch the morning sun (bye-bye pragmatists). Perched on the outside looking in at me was a yellow finch. I kept still so as not to startle him, but he hadn't moved when I walked by a minute before. We watched each other for a bit, and then he cocked his head and tapped again.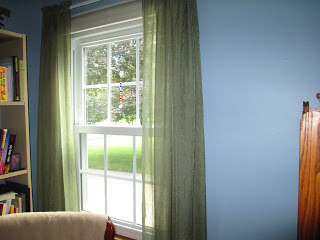 "Rich, come here! I have a bird friend," I called to my husband. When he came to the door of my office, the bird flew away.
A warm feeling spread through me as I thought of what a special moment that had been, but it was not the only moment I would have with my new friend.  I continued to work at my desk for a few minutes, and my finch (I'm trying desperately not to name him Atticus) came back and sat at the north window directly in front of me. He looked in at me and tapped a few times, and then tried to fly through the window into my office. I called Rich again, but again the bird flew away. The finch returned one more time tapping a few times and then trying to fly inside.
I was smiling like a kid with a lollipop as I thought about this, but I was also trying to grasp how I was feeling and what this might mean.  You see, I've had my totem done, and while I have no finch, my "within" animal is the Grouse – bird of the sacred spiral. I tried to honestly examine my emotions during this, and they were positive and warm.
Returning to the living room, I focused on Hugh Jackman who was discussing Les Miz when I heard tapping on the north window right behind me.  Rich laughed and I turned and saw my finch friend tapping at me.  Again he tried to fly into the room, and then flew off. He left and returned to that window one or two more times. My movements never scared him away.
Rich and I pondered the meaning of this visit, and I Googled animal symbolism and found that finches are harbingers of celebration and happiness—good times were ahead.  Native Americans held finches in high esteem as birds of happiness. Cool.
Two days later I walked into my bedroom to dress after my shower, and there sat my little friend on the second-story, west-facing window.  He tapped good morning to me and I said hello.  Even as I moved about the room, he didn't fly away.  Finally, I approached the window and he watched until I got very close and then flew away. Sadly, I have not seen him since.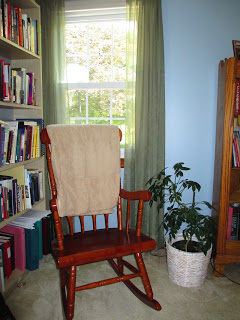 My Prayer Chair
Now, I am cautious in relating this story to friends, but actually most have accepted it willingly and many have shared similar stories with me. Two friends, Trish Harner and Deb Cull had identical responses: "I wonder who it is?"   At Trish's suggestion I tried non-dominate-hand writing asking the bird who he was.  Nothing came to mind, so I just allowed my pen to move.  I looked at the scribbles when I finished and could not make out any words.  I looked at it upside down and in the mirror, but nothing.  When I sat down this morning to share this experience with you, I looked again at the middle of the scribbles and quite plainly saw the word "love". I will check this out with Rich at lunch today to see if he sees it, too, but I see it plain as day now.
I believe my daily meditation is opening me to broader spiritual experiences and understanding. Is it a coincidence that this little finch first appeared at the window right behind my prayer chair? Even scientists (and you pragmatists who have hung around) admit we use only about 10% of our conscious mind. How much more of the world would we enjoy if we only opened our minds and hearts to God's creation?
I would love to hear of any similar experience you've had.
Save
Save
Save
Save