You're probably wondering why I'm writing about 1968. I'm reflecting on that year because I set both The Cavanaugh House and Buried Secrets in 1968. Why? For two reasons. First, I remember 1968 and they say, "Write what you know." I loved living in that era. Who wouldn't, what with the Beatles and protest marches and hippies and flowers in your hair?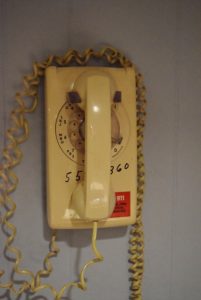 The second reason is because of the lack of cell phone technology. I wanted Jesse to be on her own in dangerous situations. No texting or calling for help. In 1968, families usually owned only one or two phones, and they were plugged into the wall. If you were fancy, your phone might be a color other than black, maybe harvest gold and hanging on the wall in the kitchen…it might even be a princess style phone. That was living large.
So, what happened in 1968? Read on:
Entertainment:
Oscar winning movie: In the Heat of the Night
Broadway:                   The musical Hair opened
Top Selling Song:       "Hey Jude" by the Beatles
Top TV Show:            Rowan & Martin's Laugh-in
Politics:
Civil Rights
President Lyndon B. Johnson signs the Civil Rights Act into law
Dr. Martin Luther King is assassinated
Presidential Election: 
Robert Kennedy is assassinated during a campaign stop
Richard Nixon defeats Hubert H. Humphrey
VietnamWar: 
The Viet Cong & North Vietnam launch the Tet Offensive
Sports
Super Bowl winners:  Green Bay Packers (this was Super Bowl II)
World Series Champs: Detroit Tigers
Pulitzer Prize Winners
Fiction                         The Confessions of Nat Turner by William Styron
History                        The Ideological Origins of the American Revolution by Bernard Bailyn
Poetry                          The Hard Hours by Anthony Hecht
Top Selling Books
Mystery                       By the Pricking of My Thumbs by Agatha Christie
Suspense                     A Small Town in Germany by John LeCarre'
Romance                     Cousin Kate by Georgette Heyer
Fantasy                        The High King by Lloyd Alexander
Children's                   The Foot Book by Dr. Seuss
Future Movie/TV        M.A.S.H.
Memoir/Essays           Soul on Ice by Eldridge Cleaver
See more titles here
I began writing this post before the recent presidential election. I felt nostalgic for the "good old days" of 1968, but as I researched that time period, I recalled that it wasn't so innocent. In fact, often, as in the case of the assassinations of Martin Luther King and Robert Kennedy, it was a time of despair. Maybe my muse, Boris, was preparing me for what would come on Nov. 8.
For those of you who remember "the good old days," this is a walk down memory lane. For those of you who don't, this era was fraught with dissension, fear, protest, envelope-pushing social change…and hope. Never forget, the last item to fly out of Pandora's Box was hope.
Save
Save
Save